As the world's leading dive organization, PADI is committed to providing opportunities for people around the world to seek adventure and save the ocean – as safely and responsibly as possible. If you're looking to explore beyond your local dive sites, PADI Travel is equipped to help you travel and dive safely in the COVID era, so you can blow bubbles while protecting people and planet.
Let the PADI Travel Experts Help You
As a dive traveler during this time, it's important to have the most accurate scuba diving and travel information available. With variables changing so frequently, it can be difficult to keep up with what's allowed and what isn't in destinations around the world. That's why it's the perfect time to work with a travel agent at PADI Travel – to help get all your questions answered, so you can explore the underwater world with confidence.
Our global team of scuba travel experts (made up of avid divers and dive professionals) is available 24/7 via phone, chat, and email to help you plan and book your next dive trip. Not only does the PADI Travel team know the most up-to-date status of dive travel globally, they also offer:
The largest available selection of liveaboards and dive resorts around the world.
Free DAN dive insurance on all bookings above USD $2,500 per person.
Best price guarantee.
No hidden booking or credit card fees.
Carbon emission offsetting option at checkout through The Ocean Foundation's SeaGrass Grow initiative.
Stay Up To Date with Dive Travel Guidelines
PADI Travel is in frequent contact with its dive resorts and liveaboards around the world to bring you the latest coronavirus updates and considerations to keep in mind for future or planned dive travel. Operators are taking COVID-19 precautions very seriously and nearly all are offering testing options onsite at their resort, or are helping to plan nearby testing logistics. The dive operators affiliated with PADI Travel are truly doing everything they can to ensure safe travel for their customers.
As the impact of the virus spreading and receding from each country evolves, regulations adapt, creating a patchwork of situations that is hard to stay up to date with. PADI collects the latest information from locations and PADI Dive Centers around the world to provide you with an interactive COVID-19 Scuba Diving Status Map straight from the source.
In addition to checking with local authorities and government entities like the CDC and WHO before determining when and if it's safe to travel, these dive travel resources provide lots of helpful and pertinent information: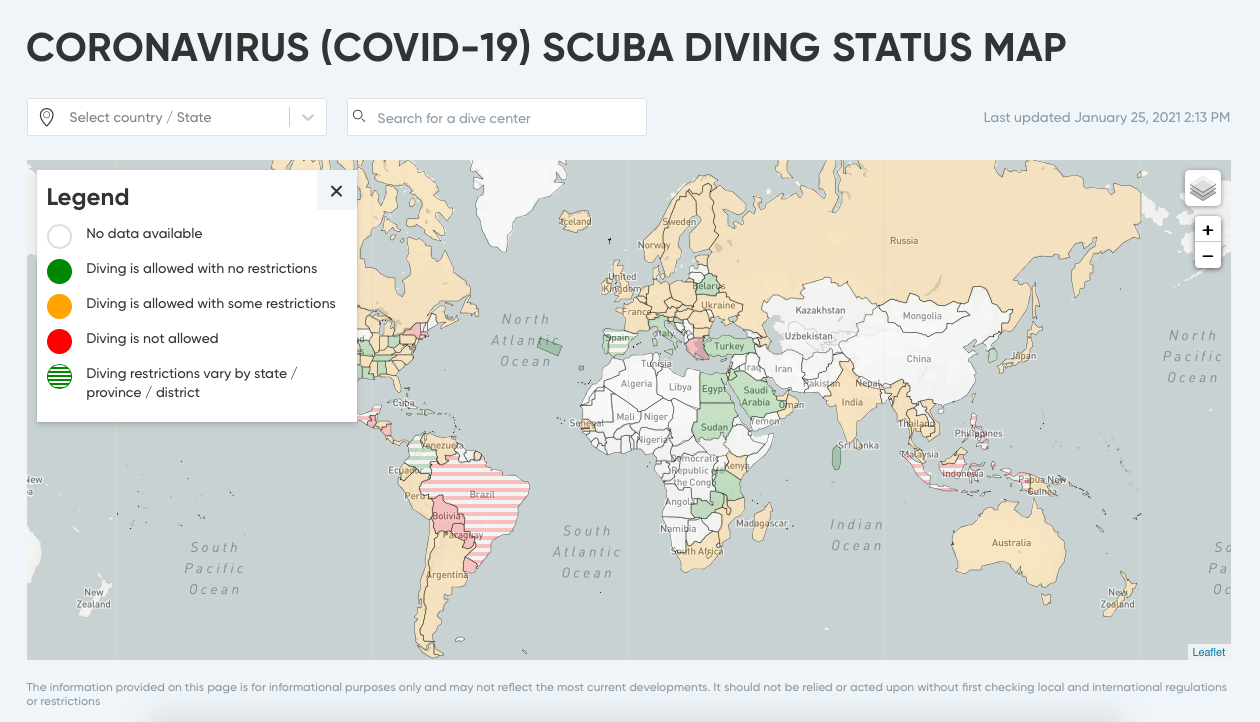 Book Your Dream Dive Trip with Confidence
Enjoy worry-free bookings on any resort or liveaboard in the Book with Confidence collection from PADI Travel.  You can make travel plans knowing you're protected and can be assured that you won't miss out on stunning underwater adventures, even as travel restrictions and situations change.
In addition to a selection of dive travel experiences in some of the most magical destinations in the world, the Book with Confidence collection provides added flexibility and reassurance with:
Unrestricted travel dates.

As low as a 5% deposit required to secure your booking, with the balance due just 17 days before travel.

If you need to cancel, r

eceive a full cash refund up to 8 days before your trip on bookings made before 31st March, 2021.
As the global scuba diving community continues to confront the challenges caused by the COVID-19 pandemic, PADI Travel is here to provide you with the most up-to-date dive travel information – to keep your diving dreams alive. United in our passion for exploring and protecting the underwater world, we are committed to helping you travel and explore the underwater world as safely and responsibly as possible. And if you aren't ready or able to travel yet, you can start your next diving adventure right now by finding a dive shop in your local area to book a dive or course with directly on PADI Adventures.
1223 Front Street
Lahaina, Maui, Hawaii 96761
Tel: (808) 661-7333
dive@goscubadivemaui.com